70s invasion - 70S gLAM gIRLS ~ DESIRA , SNATCH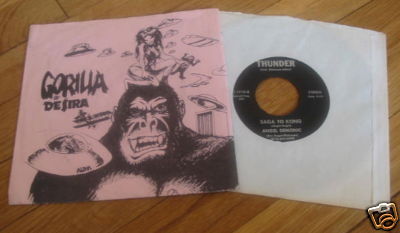 DESIRA
were not sure who Desira was exactly but 'GORILLA' was a cool hard rocking glam tune from '76 in the style of SUZI Q.....'ANGEL DEMONIC' ( Saga to Kong )was the b side, it came out on the Thunder label......she screeches in the beginning then sings 'IN A JUNGLE MEETS A HEART, I HEAR AN ANIMAL, I HEAR AN ANIMAL, .......(later ).....NO MATTER HOW BIG YOU ARE REMEMBER A LITTLE GIRL CAN KNOCK YOU DOWN'.......'
cool picture sleeve above with ufo's, king kong, and maybe that is a drawing of Desira on top of Kong ?
asian glam girls BIG SECRET also sang about Kong a year earlier, see our 2nd glam girls section here for more info on them
http://www.angelfire.com/clone/pictures12/glittergirls75.html.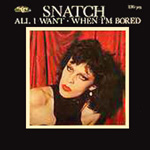 SNATCH 45, this band were actually punk girls who released singles in the late 70s, see page 7 for reviews and info....
---
The moment a child is born, the mother is also born. She never existed before. The woman existed, but the mother, never. A mother is something absolutely new.Ħħ

Bhagwan Shree Rajneesh

'Man cannot discover new oceans until he has courage to lose sight of the shore'

Unknown

' a thing is complete when you can let it be'

Gita Bellin

'My life is a performance for which i was never given a chance to rehearse'

Ashleigh Brilliant Potshots No. 1318 http://www.ashleighbrilliant.com/
---
:)
Titbits uk magazine cover circa '75, photo of a streetwalker